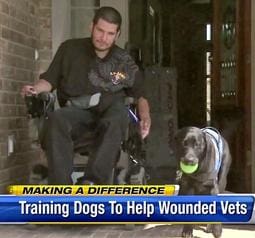 PEARLAND, Texas – Cash can fetch and give "puppy" eyes like any other dog, but spend just one minute with Cash and retired U.S. Army Sergeant Javier Negrete, and you'll see why Cash is no ordinary dog.
"This dog has changed my life," said Negrete, who now lives in Pearland. "Since I've had Cash, my life is just a completely different story."
However, a car crash during his week visiting home left the him paralyzed, and a severe brain injury altered his speech. Negrete was in a wheelchair and suffering from serious depression.
Until he met Cash. "I'm not the guy in the wheelchair anymore," Negrete said. "I'm the guy with the cool dog."